Happy New Year to our much-appreciated readers! May your 2012 be notably donor-rich and Mayan-free. In case we are not here in 360 days, let's get right to work.
We turned our attentions toward video outreach last December, and we begin this year's posts with a story expressly about a business that turned an internal demonstration into a massive video campaign. The takeaway of the 'Will It Blend?' series, though, is to make your video brief, friendly, perhaps a bit off-kilter, and don't worry about whether the video goes viral. Consultation and strategy are the foundation – Your organization must be invested not in polished production, but in long-term outreach.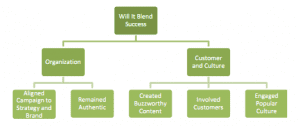 Blendtec started a new series of domestic-kitchen blenders in 2007 and the company's engineers tested the line's strength by 'blending' different cubes of wood in the machines. The Marketing Director at the time, George Wright, heard about the testing and thought the company could develop videos of the blenders taking on various non-food products. "One hundred eighty-six videos later, Blendtec's retail sales are up a reported 700 percent, its YouTube site has 200,000+ subscribers, and it has been featured on major mainstream media outlets like The Today Show, The Tonight Show, The History Channel, The Wall Street Journal and others. Among awards, Blendtec has won a bronze Clio in 2008 (Interactive category) for their interactive efforts." (For further details see SocialLens's 2009 report on the success of the viral strategy).
What the commercial success of the effort demonstrates for nonprofits is that the videos were part of a pre-existing marketing strategy and that the first few videos simply incorporated what the company already had/was doing anyway. Once the concept gained viewers, only then did Blendtec start to expand the effort and invest in some special equipment (better cameras, a fun 'set' for the demos, etc.).
For nonprofits, the target needs to be a sharp set of videos that explore and explain what your organization is doing and how viewers can make a huge difference on what you are doing. People feel more commitment to an organization that is already committed to its projects and has the know-how to multiply each donor's or volunteer's resources.
First and foremost: don't plan your strategy about making a viral video. Viral can't be planned. Nor can can you plan for viewers to go straight from YouTube to your 'Donate Now!' button. The majority of traffic on video sites goes from one video to another, so the plan needs to be to keep them looking at your nonprofit's videos.
Michael Hoffman of See3 Communications puts the point nicely on a blog posting from the summer of 2009:
Where you should start with online video is to make a commitment to using this new medium to connect people to your work. You need to think about what the important and interesting things are and ask yourself, "How do we document this work?" You need to then capture – on a regular basis – those important and interesting things. If you can find the funny stories, the creative metaphors, and turn your issue on its head once in a while, so much the better. But please, stop focusing on making a viral video and start focusing on making a viral cause.
Be sure your organization includes on the agenda of its first meeting of 2012 a specific set of goals for the year, including how to present its work via video to the larger world. Expense should be considered, of course, but it should not be the decisive factor: long-term strategy should be.