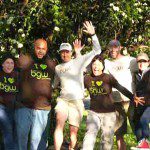 The fine folks at Baltimore Green Works have been putting on Baltimore Green Week for the past eight years, and they are calling for submissions for those individuals and organizations ready to make the ninth one the best yet.
The form required to propose your project, product, booth, or happening is available online, and is due on December 14th. The winning proposals will be announced in mid-January. GreenWeek 2012 will be April 21-28 at Druid Hill Park in northwest Baltimore. Green Week is part of BGW's ongoing EcoFest.
If you are in need of some guidance, inspiration, or feedback, BGW is sponsoring a Q&A Meeting for 27 September at 6:pm at 2002 Clipper Park Road, 4th Floor, Baltimore, MD 21211. The meeting is open to anyone even considering submitting a proposal, though GBW asks for an RSVP either to [email protected] or with a call to 410-952-0334.
But if you are not part of a greening organization or company, you can still take part as volunteers for any of the seven days are always wanted.
Check out BGW's site if you are unfamiliar with it, and mark your calendars for these upcoming events. Finally, to give yourself the good and tasty nourishment needed for this level of community action, look for your local (MD) farmer's market and support local farmers for the rest of the summer and fall.