First and foremost, we must mark the death of Steve Jobs, former CEO at Apple, who died of pancreatic cancer yesterday at the age of 56. He helped build a great computing tool. He reconfigured the way movies are made. He revitalized a music industry about to die on the reef of file-sharing, and he inspired a phenomenally innovative company to strive always to outdo itself. Our thoughts are with his family and close friends who have helped each other through these final months.
You can't connect the dots looking forward; you can only connect them looking backwards. So you have to trust that the dots will somehow connect in your future. You have to trust in something — your gut, destiny, life, karma, whatever. This approach has never let me down, and it has made all the difference in my life. Stanford University commencement address in 2005.
One of the worlds his products opened up to us was mobile communication. The iPhone for sure, but even the accessibility of the laptop in the early 1990s and the tablet today. And mobile communications have offered a new realm of possibility for spreading information and encouraging donations for nonprofits.
Nevertheless, a few old-school skills can go a long way, even in the realm of instant digital communication.
The Post Office is in a financial jam caused in part by debilitating policy decisions and in part by the collapse of mass mailings with the rise of mobile communications and social media. Nonprofits have been drivers of the latter change as they have moved their donor appeals and fundraising invitations online. But some of the features of traditional mail should be brought with the move toward mobile communications.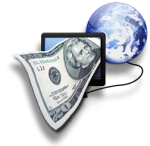 For example, be prepared to return an e-receipt or some acknowledgement of the donation. With the thriftiness of social media, your organization could make the receipt as much a thank-you letter as a receipt for a tax deduction. Thanking online donors can take on many forms, none of which are as expensive or as labor intensive as getting cards written, stamped, and delivered. For example, the online donor is likely well enmeshed in social-network sites, so you should laud his or her gifts over such networks your organization is working with.
That said, in practical terms online fundraising (and its aftermath) is not like the traditional mailing campaign: you need not cram all the necessary information into one 'envelope.' People want to interact with your medium, as well as your message – so offer them choices of links to different projects and programs they can support. Encourage your recipients to keep clicking on what interests them (which, tacitly, helps you avoid boring them with what doesn't interest them). And, of course, make it click-easy to donate. No one wants to go hunting for the dusty old checkbook.
And remember that their sending a donation should be the start of the conversation, not the end. Go back to the paragraph on 'thanking.' And why not ask them to get involved in other ways while you're at it? If they can give some money, they can likely give some time too.
Now go out there and put your own little ding in the universe.