This month has been Aphasia Awareness Month, a special demarcation we first noted last year on this blog. Aphasia is a condition of neurological disruption, most commonly caused by a stroke or by a head injury, that makes oral and/or written communication difficult. The language center in the brain can not make a smooth or direct connetion to the mouth or to the understanding of letters and words.
The Snyder Center for Aphasia Life Enhancement (SCALE) in northern Baltimore marked the event this year by recognizing the efforts of local businesses to provide aphasia-friendly materials and staff for their customers. At the luncheon, some of the speakers were themselves stroke survivors who lived with aphasia. They delivered heartwarming, uplifting, and eloquent, accounts of their personal experiences and the projects they had accomplished while at SCALE.
They did so largely through a technology called VAST, which combines video and audio cues for a person with aphasia to get her or his ideas out. We spoke with Darlene S. Williamson (MA, CCC-SLP) Founder and Executive Director of The Stroke Comeback Center in Washington DC about this exciting technology.
VAST, Video Assisted Speech Technology, is deceptively simple at first blush: the video shows the mouth of a person speaking the words that the person with aphasia wants to say. The person with the condition then follows the words through an earpiece and watches the screen to help retie the connections between the ideas the brain still holds but the mouth struggles to articulate to an audience.
But the opportunities to make the technology personal and portable mean that people with aphasia or aphraxia are able to express their many thoughts through the day in a variety of contexts – and with a technology we all use to get through our days. The growing presence of smartphones and tablets in all our lives means those who already have the distancing condition of aphasia are not also burdened with an awkward or uncommon technology that might further call attention to them.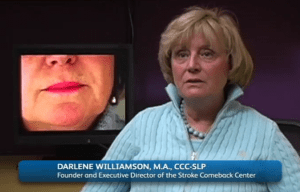 "I left a career in a hospital setting where I experienced the evolution of an insurance system from a service model to a managed care model, which scared me out of the hospital. I did not feel I could give the same quality of service that I had given for many years simply because of the insurance regulations.
"I had done a good deal of work at universities with groups who had suffered from strokes. I wanted to train students too, and we found that people did really well working in a group, maybe at par with one-on-one therapy. This led me to thinking of helping those with aphasia within a group, which is financially feasible as each person around the table pays less."
Her work was within universities over the next few years, while also working specifically with those with aphasia after strokes. She realized the need to have a center dedicated to such a program. The real challenge was to convince potential donors and clients about the opportunities for success the center could offer. "I knew there was practical and emotional worth to this idea, but proving that was really critical. We had a bare-bones operation for the first few years. … We continue to work with many many donations of a couple of hundred dollars each." Indeed, she pointed out that the center's success has been from a broad, if not deep-pocketed, group of interested benefactors, most of whose lives (or the lives of loved ones) have been touched by stroke, aphasia, or other speech pathology.
Keeping in touch with those constituents has proven a longer-term issue for the center. The framework of an online presence was begun in 2006, but Darlene seemed rather embarrassed (and unnecessarily so) at its status at this stage. "We have a Facebook page. We are looking to do more social media. But I don't have the technology help that centers like SCALE have. The board of directors want to attract some volunteers specifically to help with that." Of course, if anyone reading this posting wants to help, please reach out to the center at your earliest convenience!
Darlene and her tech-savvy sons developed VAST through some experience they had with commercial software for foreign-language learning. They worked with that idea with a number of language software packages, and then focused on the modalities of reading, learning, speaking, and writing along a continuum from simple sentences to complex comprehension.
"We use anything like word games or apps that encourage word play or memorization. Of course, with the iPad, such games are easily portable. We look for an 'app of the week' to share with our clients. With my focus on apraxia, I had a patient who filmed me while I was explaining the difference between aphasia and apraxia. Those with apraxia have a chance to imitate and repeat and repeat and learn to build new neural connections to improve speaking. I had taken digital still pictures of a person talking to help those with apraxia form their mouths in similar ways.
"One patient wanted us to video that same exercise, which we hadn't done. So I recorded myself speaking, and this particular individual had about 25 words to speak with. But he was a descendant of Winston Churchill and he wanted to speak a Winston Churchill speech after his stroke. He recorded me reading the speech, and he looked at video while listening to it. Soon, he was able to speak the entire speech. All of which drove me to a whole new idea of seeing who else could learn in this way, so I started experimenting with what became VAST with short patterned scripts of common exchanges.
"My son helped me develop the program, and I came up with 'Video Assisted Speech Therapy,' where he came up with 'Speak In Motion.' I don't have all the answers that I would like to have in terms of where the materials work best. But we've completed one round of clinical trials ourselves, and many other groups here and abroad are showing that the brain is responding and rewiring thanks to use of the technology.
"There's no limit to what we can do with such technology – but we know that such technologies won't be developed without centers like ours. People in hospitals and managed care who might have fifteen meetings before insurance cuts off support won't be able to develop this kind of stuff. We have the luxury of working with it and taking the time to find what works."
Darlene says the technology is being adapted for children, for those with autism, and with other groups in mind. The technology thus becomes transparent thanks to its ease of use and the focus remains on the user and the benefits she or he can derive. Ultimately, technology is only useful in so far as it furthers communication among humans, and the folks at The Stroke Comeback Center has helped develop one of the more productive avenues to pursue such technology.