With the advent of the iPhone and iPad, it's easier than ever to get things done when out meeting potential donors or organizing fundraisers.  Depending on what you need to do, an iPhone or iPad can keep you productive on the commute to and from work or on an airplane etc.  That said, we are not condoning working on your iPhone or iPad while driving!
Many organizations use Microsoft's Office suite for word processing, spreadsheets and presentations.  Though it's rumored they're working on a version for iPad and iPhone, Microsoft has been notably absent from the AppStore, the marketplace where all applications for Apple's mobile operating system (iOS) can be purchased. Not to worry: here are some ways to get started creating and sharing immediately with your mobile device.
One alternative is Apple's own suite of apps known collectively as iWork, which includes Pages (word processing), Numbers (spreadsheet), and Keynote (presentation).   These apps all work especially nicely on iPhone and iPad.  If you use Apple's iCloud service, these documents can be stored online and synced across iOS devices.  If you need to work on them on your Mac or PC, they can be accessed via the iWork website on iCloud, which requires an iCloud account).
Apple's iWork suite does not natively save documents as Word, Excel, or Powerpoint formats, but it it will open those files when sent from your Windows-based colleagues.  Moreover, you can export or save a copy in those file formats – whether the document originated from Office or you created it in an iWork app.
If having files in Microsoft formats is necessary for you, there are a couple of other apps that are essentially Microsoft Office for the iPhone and iPad.  Many of these offer a lite version to try out at little expense.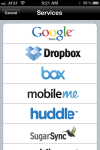 Specifically, I'll talk about QuickOffice.  It comes in a standard version, a Pro version and a Pro HD version for iPad (Find it in the AppStore here). What I like about QuickOffice, is that it offers creation of Word format document, Excel spreadsheet, Powerpoint presentation and also simple Text files.
So, you could create a file that isn't tied particularly to MS Office.  QuickOffice also allows you to integrate with a number of cloud based file-syncing services such as Dropbox, SugarSync, Box.net and even GoogleDocs.
If you don't use those services, but would still like to move documents between your desktop and iPhone/iPad, QuickOffice allows you to connect through a browser.  The app will present an IP address and port number in this format: .   The address you see will depend on your router's settings.  Put that address into your web browser, and you'll be able to put files on your phone or iPad. You can share this IP address with officemates who also need access to the files.
While not quite as full featured as the desktop counterparts, Apple's iWork suite and QuickOffice Pro allow you to create, edit and share documents no matter where you are and maximize your efficiency.
Guest blogger Scott Caldarelli, an Apple Certified Consultant, writes frequently about technology and IT at scottcaldarelliconsulting.com.