It's inevitable: You're out of the office, armed with an iPhone or with your iPad, and prepping for a big presentation to a potential donor. You need to get to a file or access something on your computer, which – alas – is sitting on your desk back at the office. Now you've either got to go back to the office, or to call and hassle a colleague to sift through your machine to find what you need. This scenario probably also involves giving someone else your computer's password, which you shouldn't do.
Enter a number of options to allow you to connect back to your computer from iOS, saving you time and the embarrassment of calling HQ for help with your own files. I'll explore two popular ones that I've frequently used. The first is one most have at least heard about, thanks to their email advertising campaigns: LogMeIn.
LogMeIn, as well as the other piece of software I'll discuss below, is actually two pieces of software. A small application you install on your computer. After going to the LogMeIn website and creating an account, download the Free version of their software (LogMeIn Ignition). The Free version of the LogMeIn software is usable by one user to his or her own computer or two (handy if you work on a desktop at the nonprofit and have a laptop for the road).
The next step is to download LogMeIn (Ignition) at the AppStore on iTunes.
Enter your credentials for the account you've created.
You'll be presented with the computers onto which you've installed LogMeIn.
The first tab will allow you to see the screen and control it with your iOS device. The second tab will allow you access to the file system. You can view and copy files directly from your computer. The picture at the top of this article is my MacBook Pro controlled from my iPhone while writing this article.
You can zoom in, open files, even edit them almost as if you're sitting back at the office chair. It's a great tool for doing work at your laptop or desktop when you aren't at your organization's site.
The other program is called iTeleport. It's also requires a desktop component (iTeleport Connect) and your mobile device's component is on the AppStore.
The difference with iTeleport is that it specifically requires a Gmail account.  Sign in with your Gmail address and a password on both your computer and your iOS device. On iOS, you're presented with entering the login for your computer. Enter the info, tap Connect and you will be fed the desktop screen.
From here you can again operate your machine almost as if you're in front of the computer screen, where ever it might be.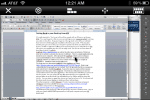 To the left is another screenshot, this time with iTeleport on my iPhone controlling my MacBook Pro while writing this article.
iTeleport does not offer direct audio file access from the iPhone as LogMeIn does, and video support is still in development. If access to those media files is particularly important feature for you, opt for LogMeIn over iTeleport. If that's not an issue, and you have a Gmail account, iTeleport is a great alternative.
Both applications can be used on the iPad or iPhone, though be aware of which version you buy in iTeleport: one can buy an iPhone or iPad only version ($19.99) or a dual version ($24.99). Once purchased, you can download the same app to as many devices as you want/need. LogMeIn is free for individuals, and expandable to the Pro level for $69.95 per computer (with discount packages at 5 or more machines). But LogMeInPro offers much better multi-media support across devices – which could be a winning feature for a nonprofit expanding its video outreach in 2012.
Guest blogger Scott Caldarelli, an Apple Certified Consultant, writes frequently about technology and IT at scottcaldarelliconsulting.com.