When was the last time you tested your 'Civic Health' to find out if your actions, attitudes, and behavior indicated your full participation as an American citizen?
The National Conference on Citizenship (NCoC) has established a 'Civic Health Index' to measure this very thing. Founded in 1946 and chartered by the U.S. Congress in 1953, this non-profit organization leads the way in promoting our nation's civic life. Established to track, measure, and promote civic participation and engagement in partnership with other organizations on a bipartisan, collaborative basis, NCoC focuses on ways to enhance history and civics education, encourage national and community service, and promote greater participation in the political process.
The NCoC relies strongly on New Media (NM)—often referred to as Social Media for this readership—to get its message out to citizens across the country, and this week's Perspectives spotlights their NM outreach director Kristen Cambell.
Although Kristen began her professional career with a cable advertising company, she felt a missing component—a need to make a difference on a broader level that selling a product. Having done an internship during college in Washington, DC, she knew she wanted to return there and establish a career. She joined AmeriCorps and moved across the country, setting herself on a path to help people do the best they can with what they have. "I grew up with the understanding that 'to whom much is given, much is expected.' While you might not always be gifted with financial resources, everybody has something to contribute." Kristen wanted to help others realize this for themselves…how to be the best stewards of their resources, be they time, talent, or treasure.
Through her work with AmeriCorps, Kristen became associated with NCoC and was impressed with their work, particularly in regard to citizen-centered civic engagement: putting citizens at the center of both identifying issues and finding ways to solve community problems. She made the move to NCoC in January, 2009.
NCoC looks at data, resources, and social sciences to determine how they drive citizen action – to help them understand not only why people do what they do and how they do it but also how an organization can best support it at the national level.
From Kristen's perspective, NM is about upgrading the ways we communicate, reaching an audience in a way targets and maximizes a message, making it useful and relevant for the receiver… "I think the most powerful thing about new media is that it reaches people where they are, rather than expecting them to come to us."
NCoC uses NM in a variety of ways, including social media sites like Twitter, Facebook, and YouTube to share resources, articles, information, and spark discussion. Services like UStream broadcast events live online, helping the organization engage a geographically and demographically diverse audience.
Kristen feels the NCoC's audience has changed slightly since rolling out their new-media presence. "As an organization, our mission is largely about providing the information, research, meeting, and materials that allow other organizations to do their jobs better." With a mission to measure, track, and promote trends of the civic sector, they bring people together to identify some of the bigger challenges and develop plans to address them.
[quicktime]https://www.mkcreativemedia.com/wp-content/uploads/2010/11/VID00036.mp4[/quicktime]
[Kristen discusses the use (and possible abuse) of social media in political activity]
To that extent, the historical target audience of the NCoC was thought-leader based, national nonprofits, academics, social scientists, etc. While that is still true to an extent, given the recent trend of 'big citizenship' – citizens organizing themselves to address problems in their communities and to create solutions to those problems, a grass-roots approach – has helped the group to expand into the social-entrepreneur and civic-innovation space.
"We've received feedback from passionate individuals in communities, whereas before feedback came from institutions."Civic innovators use the NCoC's information and data as a starting place for discussions in their community, and Kristen believes their use of social and new media has been largely responsible for opening that door.
"When people visit our website, we want to make sure there are suites of tools like social-media integration and ways to customize content. These tools ensure that visitors can easily find, comment, share, repost, and spread our content. I think this is important because it empowers our audience to be champions and spread our message in ways that can be more meaningful and expressive than if we try to do it all ourselves."
Kristen notes the importance of staying balanced regarding the type of content an organization creates. "People can tell pretty quickly if you are only in it for self-promotion. It's important for organizations to balance how much they put out about themselves versus how much they are sharing about others."
NCoC produces some of their own content, with articles, tweets, occasional videos, blogs, and other media about relevant issues. They also use cross-posting of content created by others, which proves an easy and low- to no-cost way to expand exponentially their ability to collaborate with like-minded institutions and partner organizations.
As a non-partisan non-profit organization, NCoC tries to present information and then allow people to draw their own conclusions. They do, however, sometime pose ideas about an 'ideal state,' based on what researchers and data have shown to support a particular position.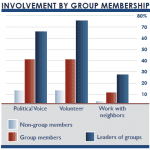 To that end, the Civic Health Index was created as a national measure of the actions, attitudes, and behavior of our country. Started in 2006 in cooperation with the Civic Indicators Working Group, a force of leading researchers, social scientists and academics studying this issue, the CHI became 'an annual report aimed at helping citizens, policy makers, non profits, foundations, corporate-citizenship officers understand the specific attributes of their communities to aid in developing policies, programs, and initiatives to increase the civic health of those communities."
In 2008, NCoC realized to have the most impact, particularly on the policy agenda, they needed to look at the civic health of the states. Since 2008, they've been producing state-based reports. "We are expanding the role of new media in the Civic Health Index, but to date it has been largely to support dissemination… One of the things that's important to me is making sure we are not an organization that puts out a report and then lets it sit on the shelf for a year until its time to issue another report. We want each report to have legs, life, and meaning throughout the course of the year. New media helps that: it gives us opportunity to pose questions that allow us to dive deeper into the data and understand the 'why' behind the numbers."
NCoC tries to use NM to present research in innovative ways. Reports are posted in downloadable PDF form, broken down so people can quickly find the section relevant to them. Through their online data center (civic.serve.gov), NCoC, in partnership with the Corporation for National and Community Service, provides data breakdowns for all 50 states and 51 of the nation's largest communities. They've also launched a Community Action Scoreboard, which is a widget-based quiz, which challenges people on their knowledge of civic data.
While there may be something of an audience learning curve regarding the mechanics of NM, Kristen believes this has been the case with much of revolutionary technology, include the telephone, fax, and computers. But Kristen sees NM as simply another communication channel that increases our ability spread our message, and allows us to do our work more efficiently.
"It's about transparency, authenticity, and empowerment, and you can't really teach those. They are about fundamental ways you approach your work – or they are not. If you use social media as a tactic, you are missing a large part of the value of new media. I also don't think it can be taught tactically in that there is no standard set of rules about what works and what doesn't. I think half the fun is playing with it and seeing what works for you and what resonates with your audience."
Written by Cate Richard. Interview and additional research by Christopher Gardner.
Related articles