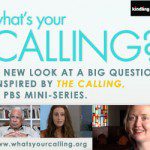 As you surely know: Last night, President Obama announced the killing of Osama Bin Laden. The news is developing as we post, and we are not going to pretend we can add anything to this 'momentous occasion.'
The much more modest proposal today is to ask "What am I going to do next?" The question comes from a PBS mini-series called "What's Your Calling?" The series follows seven people from the three monotheistic faiths as they grow to accept a priestly/leadership role in their traditions. But the question has also gone viral in the philanthropic world, whether expressly religious or not. Facebook, not surprisingly, has proven the medium to make it so.
Britt Bravo, a Social-Media Consultant in California, has expanded upon the question to encourage those of us engaged in the greater nonprofit endeavor to refocus our goals and motives.
Britt's blog, 'Have Fun. Do Good,' poses five great statements encouraging us to articulate what we feel compelled to do, explore why we feel so engaged, and what steps we need to make to start the process. The statements are geared toward the individual, but they are perfectly well suited to present to one's peers and staff in any organization looking to do good.
Given the especially difficult economic times we have endured over the last almost-four years, we can use the slight uptick in economic growth in recent months as background for regeneration of our missions and our outreach. Thus, discussion about the five questions might be just the platform to revive the year's goals for your organization.
Her five points that we all should consider are:
I just know that I have to __________________________.
I'm compelled to _________________________________.
I can't rest unless I'm ______________________________.
_____________________________________ is like an itch.
I gotta __________________________________________.
So as we get through our first day of a Post-Bin Laden world (whatever that might mean), let us use the stunning geo-political change as an opportunity for personal and organizational revival. Be well, and do good.