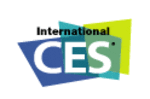 Each mid-January, while much of the country is struggling to get through wintery weather and get kids back on a school-day schedule, the brash, bold, and bright world of near-future technology is shown off at the Consumer Electronics Show in Las Vegas, Nevada. Not the back end of the financial crisis/Great Recession, not the fact that Apple has not attended in over a decade, or that Microsoft is attending this year for the 'last' time could stop the show from breaking attendance records at over 153,000.
Yet those 153,000 did not include the consumer, per se. The show is invitation-only and those are sent to hardware and software companies, to news agencies, to retail-chain buyers, and to tech reviewers. Alas, despite the strong numbers and expansive and loyal readership of the MKCREATIVEmedia blog, we did not seem to warrant an invitation this year. Or it got lost in the mail. Thankfully, the names we trust to write about technology were there to help.
The always informative-and-entertaining David Pogue of The New York Times tried to sum up the wares on display in this way:
If you just peek into the huge International Consumer Electronics Show, you might think that it's mostly a deafening showcase for tablets, thin TV screens, superthin laptops and Android phones. But if you really take the time to look — if you walk all 15 miles of exhibit halls — you'll discover that, in fact, you were right. C.E.S. really is primarily a deafening showcase for tablets, thin TV screens, superthin laptops and Android phones.
His comments can be wonderfully acerbic as well: "And 3-D sets were everywhere; clearly, the industry still hasn't noticed that nobody wants to put on special $50 glasses to watch TV. That's nothing compared to the emphasis on the "convergence TV," a vague concept of TV-plus-Internet that's been promoted at every C.E.S. since the Civil War and still produces only yawns."
Earlier this week,
we showcased the 'Silver Summit'
at the CES that focusses on tech developments for older consumers. Overall, though, the Consumer Electronics Show strove for thinner and more integrated. The tablet and 'ultra book' (super thin laptops à la the MacBook Air) markets seem to be heating up as PC makers push out thinner, yet stronger and sometimes waterproof, models. Such models will not be cheap, but they could be a real boon for nonprofits working in less-than-comfortable environments.
But for the tech-geek that lurks in all of us (perhaps with different levels of intensity),
we can enjoy a video by Sam Grobart
, also of
The Times
, about what caught his eye at this year's electronics show. I've already got the LG Clothes Manager on my Christmas List (2035).
And here is Paul Reynolds of Consumer Reports had to say after a day on the large, long, floor: