Few things in life are more futile, and such great fun, as predicting the future. From Francis Fukuyama's The End of History to Harold Camping's Time Has An End (the web design exhibited here ended, thankfully, about 1997), we invariably misunderstand what will be the next big thing. And when we get it wrong we tend to argue that we were misunderstood. Or the true meaning will be revealed/discovered later.
But throwing caution to the wind can be one of the perks of blog writing, so we thought we'd follow PCWorld's Jeff Bertolucci into the abyss, as he argues all the (10) technologies that the smartphone has killed off over the last 5-6 years. I'll go first: my pocket/academic calendar, still received each September as a quaint reminder of a simpler age, goes straight to the recycling bin. My phone's multi-sync, multi-repeat, alarm-tweaking calendar keeps track of my mess of a schedule.
You can play along at home, of course: what technologies have you given up over the last few years thanks to your phone-cum-computer? What technologies do you use now that you suspect your phone will be doing before the Cubs with the Series? Before you click for 'more,' take a moment to consider…
According to Jeff's article, mp3 players (including iPods), point-&-shoot cameras, and voice recorders top the list. Why carry around three things, when a single phone can do them all? As well as act as a PDA, watch, and map collection that need never be wrestled back into a decent fold for the glove compartment?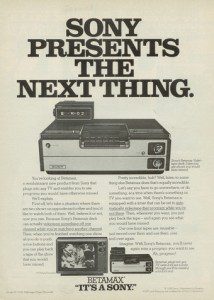 To his list I am tempted to add 'newspaper subscription,' 'bubble leveler,' and handy-dandy tip calculator I kept right next to the grungy one dollar bills I was ready to pass on to the waitress. In the future, I imagine I'll just text her the tip to her account. I hear Tiger Woods was involved in the research of that technology. And I have no idea of anyone's phone number, including my own, because I just talk to my phone to dial someone – if I do something as quaint as call.
So fine, we all can pick technologies that seemed necessarily distinct that now iPhones and Androids and a few of those Windows 7 machines can now handle without getting the microchip warm.
But what was most intriguing about Jeff's salvo into past-and-futurespeak is the resounding defense of various technologies he claimed comatose if not defunct. Many apparently still wear wristwatches, and quite a few love their mess of analogue maps (I do love maps myself, but my smartphone has its own charms as I chart a course for adventure). One pundit, rgeiken, took the Postmodern approach to the whole exercise:
Another presumptuous statement by an author that only sees things from his own perspective. I have a cell phone, Camera and several ipods and don't expect to be able to buy something that will replace all three in on case! Also as noted previously, I don't have to pay over $1000 a year to have all this available. The cell phone is a prepay of 1000 minutes for $100 and good for a year, and the camera and i pods are paid for an my use of them is basically free. Some of my ipods are over 4 years old, and one is about 2 years old. Will replace them as they malfunction. This is really a "Blue Skies" type of article, and while it may appeal to some people, a lot of people will see it for what it is.
What many others saw was a way for phone-service providers to make a killing: none of the dedicated devices Jeff listed required monthly fees or capped one's use of them – a point I am reminded of every month as I wonder if I could live without the convenience of a dozen pretty-good tools in my pocket instead of a dozen really great tools that would require a satchel (and, worse still, some foresight to prepare).
Well, we saw the article as a chance to reminisce about Palm Pilots and dedicated video cameras and pocket calendars. What have you given up for the convenience of your smartphone? Share with us in the comments below.
But now my phone is reminding me it's time to take my meds.