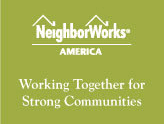 NeighborWorks America has been helping citizens finance their homes since 1968, when Dorothy Mae Richardson, a homemaker and community activist in Pittsburgh, enlisted city bankers and government officials to join with her block club to improve her neighborhood. That early, grass-roots, endeavor to improve the urban housing of Pittsburgh became the successful model replicated across the US in the early and mid-1970s. Now the organization is working with banks to finance small businesses.
At their website's blog, Eileen Fitzgerald, CEO of the organization is quoted as stressing the need to link improved housing with improved business prospects at the local level: "NeighborWorks organizations have housing at their core, but as a network we recognize that without a strong and diverse community economic base, sustainable housing solutions for families are extremely difficult."
NeighborWorks seems to be stepping in to play the role that the bailouts of the banks was supposed to accomplish: filling up the coffers that will allow new loans to small businesses that, as politicians like to announce with toddler-like repetition, are the backbone of the American economy. The new services include micro-loans and training/resources to apply for larger loans, as well as underwriting of loans and tax guidance.
The program available in each NeighborWorks office and area, so a bit of research is advised before you contact your local office. Details and guidance can be had by contacting Doug Robinson, 202-220-2360, [email protected].