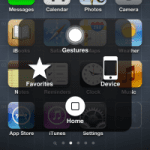 Apple's lack of interest in supporting charitable organizations either with money or with allowing apps on its mobile platforms has gotten the corporation some bad press. And Steve Jobs continues to inspire some rancor for his leadership style, even after his death from cancer. Yet, defenders of Steve Jobs and/or Apple are quick to point out that Apple's products have revolutionized the ways nonprofits work, and that influence is surely the more important in the long run.
Last month, Steve Pogue of The New York Times uncovered further evidence that Apple might not be one of the philanthropic giants (or even minnows), but its directors and engineers do indeed have hearts.
Mr. Pogue, writer of one of the best-known tech columns in the 'press' and author of numerous 'Missing Manuals' for Mac and PC technologies, was developing a manual for the iPhone 4S with iOS5 when he came across 'AssistiveTouch.' The technology is to help those who struggle with the motor skills required to manipulate a touchscreen, and it would even work for those whose hands are paralyzed:
One new feature, called AssistiveTouch, is Apple's accessibility team at its most creative. When you turn on this feature in Settings->General->Accessibility, a new, white circle appears at the bottom of the screen. It stays there all the time.

When you tap it, you get a floating on-screen palette. Its buttons trigger motions and gestures on the iPhone screen without requiring hand or multiple-finger movement. All you have to be able to do is tap with a single finger — even a stylus you're holding in your teeth or fist.
David Pogue then offers an excellent walk-through to set up the feature and put it to good use.
What is perhaps most striking about the technology is that it exists at all. If, like us, you did not know of the feature, did you feel animosity toward Apple for the fact that such touch-assistance 'did not exist'? Certainly Apple did not develop the feature in an effort to sell a huge number of iPhones to a large segment of the smartphone market. Apple apparently saw 'AssistiveTouch' as a way to help a constituency of physically impaired citizens left largely unserved by the consumer-electronics market.
Sure, the technology – once word gets out – will sell a few more iPhones to the benefit of the philanthropically tight-fisted company. But helping out the disabled, not selling more mobile devices, seems to have been their first concern in this instance.