The rumor mill continues to grind as to whether and when an iPhone 5 will be coming to market, and what improvements it will have. Recent reports state that AT&T upper management has inadvertently given the heads-up to retail managers to prepare for new materials and rollouts in the fall. Thus followers of such news are now predicting a late-September announcement for an early/mid-October release date (Full Disclosure: We predicted a release date of early 2012 if the phone didn't come out in September.).
Even though Apple Inc. is officially richer than the US Government, the company won't be giving away iPhones as part of a stimulus package. As we have noted in this blog, the software system iOS 5 is coming out this fall anyway, and the enthusiasm for the 200+ features in the new system is already boiling over. Whether new hardware will come with that software remains to be seen.
In the last few months, the cellphone battle has really been reduced to iPhone vs. Android. Numerous 3rd-party apps have been developed for both platforms over the last year or so, and Retrevo.com has made a useful comparison of some of the more popular apps as they perform on each kind of phone. Is your favorite on the list?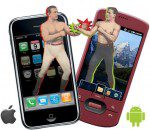 You might be surprised to hear that the reviewers at Retrevo argue that many apps that work on both platforms are much easier and more convenient to use on an Android phone. This judgement is especially true for social-media apps (Facebook, Twitter, Pandora…) because one can create 'widgets' that are active on the Android phone's lockscreen.
According to the writeup, the performance of the applications themselves, within the applications, is mostly a dead heat. But:
The difference lies in how they do it – and the key reason they are better on Android is because of the widgets. There's nothing better than being on the train and able to place a Pandora widget on your lockscreen, controlling it easy without having to go into the app or even into the phone. It's true that on iOS you can play them from the multitask menu, but only after you launch the app, and you certainly can't do it from the lockscreen.
Apple's Safari gets superlative comments as a browser, as does Apple's iBook – but most other advantages go to the Android system.
That said, iOS5 will include a 'Message Center' and app control from the lockscreen of the iPhone(5?). So many be the Android advantage will only be around for another couple of months? We'll see in September, or October, or…