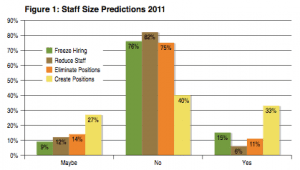 Happy Easter Monday/Last day of Passover! We mark the season of rebirth and hope in new beginnings with a study suggesting the (tempered) optimism of the nonprofit sector to see some green sprouts of growth over the next six-to-eight months.
The overall unemployment rate has gently and oh-so-slowly slipped back toward a mere 8.8%, and politicians on both sides of the aisle are looking for ways to spin the trend to their advantage as the presidential campaign for 2012 gets going in earnest.
As hiring in the private has somewhat expanded in this late spring, nonprofits are also hoping to bring in new employees in the next few quarters of 2011. A survey from Nonprofit HR Solutions shows an awkward confidence that the hemorrhaging of positions and people is over, yet the resources and demand to hire are not really there either.
How has this uncomfortable balance been expressed by the nation's nonprofits, according to the report?
A synopsis of the not-good news is that a significant majority of nonprofits do not plan to shed more jobs this year and feel confident that at least their situations have stabilized. The ongoing concern, though, is the difficulty of keeping streams of federal support flowing.
Loss of funding from government grants, and overall decline in operating budgets were cited as the top two reasons for eliminating positions in 2011. These findings were similar to the findings from the 2010 Nonprofit Employment Trends Survey. Small and mid-sized organizations anticipated they would be affected by an overall budget shortfall more than larger organizations.
What 81% of the respondents noted was that they could cover the necessary work with the staff numbers that had been reduced since the summer of 2009. Only four percent stated they needed to expand their use of volunteers or part-time interns. A concern for this trend is that remaining staff will suffer from burnout from overwork (for the same pay) as the good deeds their organizations perform remain vital to the millions who have suffered the worst from the Great Recession.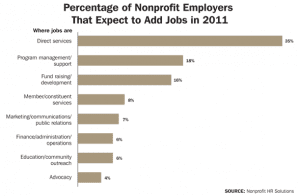 As in the private sector, larger nonprofits are expected to lead the hiring trend, as direct services to their constituents and clients remains a driving concern: "A greater proportion of mid-sized and large organizations expect job growth in 2011 versus small organizations. Growth is expected to largely be in direct services (35 percent). Respondents also predict continued job growth in program management/ support (18 percent) and fundraising/development (16 percent)."
Across the board, though, the greatest challenge all expressed was the need to keep staffing budgets at least steady, despite shrinking or (at best) stagnant revenues:
When considering the greatest challenges by budget size, small organizations, (44 percent), and medium organizations (32 percent) noted maintaining salary budgets with decreasing revenues as their number one challenge. A smaller percentage of large organizations (23 percent) cited maintaining salary budgets as their greatest staffing challenge. For large organizations, (25 percent) finding qualified staff was the greatest staffing challenge.
The overall resilience of the nonprofit sector is discussed in the report, and we have discussed that resilience on our blog. That some hiring will take place in that sector in 2011 seems quite likely, as many pluralities in the survey suggest. Let us hope these sprouts grow into strong, nourishing, plants.