Scott Caldarelli returns to continue his discussion of the advantages of the inexpensive Mac Mini Server for your office.
In my last installment of this ongoing series, I talked about the Mac mini server and using Kerio Connect for your contacts, calendars and possibly email. As a reminder, let me summarize:  Apple's Mac mini Server is a low cost server for small organizations and provides a central location for storing shared calendars, contacts, and files. It has some built in tools do accomplish all this, and Kerio Connect is a third-party product that provides more features than those provided out of the box with the Mac Mini Sever. It's an alternative to Microsoft Exchange for small and medium-sized organizations, providing email, contact, and calendar management through desktop email clients, web browsers, and smartphones.
So, if your needs are basic, the out of the box items will probably do what you need. If not, a product like Kerio Connect will enhance that functionality for you. In today's entry, I'm whittling down some of these options for those who are on a little tighter budgets. Who isn't these days?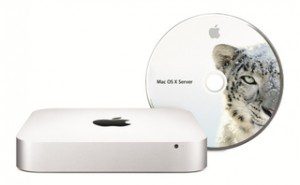 This entry won't take as much time to read, but it will give you advantageous options to think about.  The "other options" I mention in the title  start with one basic premise:  you don't have a server at all.
That's right. There are many places that will host the Kerio server for you. You can find a list of Kerio hosting providers here.
There are pluses and minuses to going with a hosted Kerio server. First, you'll still need it to be set up for you. The providers will generally help you with setup. The other issue, of course, is that you'll have a monthly cost associated with setup and server maintenance. This bill can be a plus, though: It makes your costs fixed. The onus is on the hosting provider to do maintenance and take care of the server for you. That's what you're paying for in addition to the space. They will help you get set up and then you just call them if there's an issue or open up a support ticket.
A possible problem with such an arrangement you have to think about is that if your internet connection goes down, you can't connect to the server to get your email or update your calendars. But that's the case no matter where your email lives. As a reminder, Kerio is platform neutral. You can use Mac, Windows or even Linux computer systems if you like.
The other service I'll talk a bit about is similar. It's a hosted Microsoft Exchange service. If your organization has an Exchange server now, you know the costs of licensing and upkeep are pretty high. With a hosted Exchange server, you can pass the burden of maintenance off to the hosting provider.  Rackspace is a company that provides hosted Exchange services and has a great reputation with customer service.  Rackspace also provides a nifty service with their Hybrid email. If not everyone in your organization needs to have a calendar, but some of the people only need to get email, you can mix and match Exchange accounts and Rackspace email accounts.  Rackspace has a great page that explains this service and the money you can save.
This short list of good technologies should give you a great jumping off point to look into these services and decide what might be right for your company or organization.
Part One of Scott's discussion of the Mac Mini can be found here. Part Two can be found here.
Guest blogger Scott Caldarelli writes frequently about technology and IT consultation at scottcaldarelliconsulting.com.