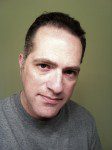 I'm excited to talk about the newly updated Mac Mini Server this week, having often discussed the benefits of the previous model on this blog. Apple last week released OS X Lion (OS 10.7) to the public. Along with the major software update and the Mini Servier, they updated the MacBook Air and the Mac Mini.  For the MacBook Air, hardware and software updates are really nice improvements, but for the Mac Mini, the improvements are huge, and really offer the best deal for a small business or nonprofit to organize its office around an inexpensive and easy-to-maintain server system.
The first, most obvious change is that Apple has done away with the DVD/CD drive altogether in the Mac Mini.  You can buy an external DVD/CD drive to add to it if you need, but with online and streaming technologies ever improving, disks are on their way out.
Let's talk specs. The prior Mac Mini models used the Intel Core 2 Duo processors.  They've updated the Mini with the newer Intel Sandy Bridge chipset and the Core i5 and Core i7 processors.  The new processors will get more done at the same speed rating.
This alone would be a big improvement to the Mini, but the whole machine has been revised. What really nice is that the server comes with a quad-core i7 processor. That's the equivalent of having 4 processors inside a computer that still measures under eight inches square. The prior Mac Mini server only had a 2 processor chip inside. Having 2 more processors allows it to do more tasks at once, though it's not a direct doubling of ability. What is important is that each user will experience less slowdown when many of his or her colleagues are also accessing files on the server.
In terms of storage, the Mac Mini server has a host of options. The same dual 500GB 7200rpm drive setup for redundancy from the prior Mini server is still here, though you can up that to dual 750GB 7200rpm drives. To gain some speed, they allow you to configure a 256GB Solid State drive for the first time. Solid State Drives have no moving parts and are thus incredibly fast. But they are rather expensive, especially as you move over 150GB sizes. You can mix and match the SSD and standard hard drive options as well.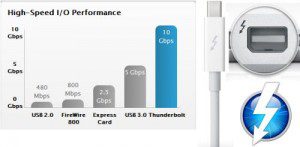 The other big news concerns external storage. Thunderbolt is a high speed data port just introduced on the Mini as well as almost all other Macs (www.apple.com/thunderbolt). I'm sure you're at least a little familiar with USB.  USB is a moderate speed interface for a variety of items such as keyboards, mice, hard drives and printers. Firewire is a faster interface but is used for pricier (but faster) hard drives and some audio and video devices that have to send lots of data between devices quickly. Thunderbolt has a much higher throughput than either Firewire or USB. And, we're only seeing the first iteration of Thunderbolt. As Thunderbolt is improved, the amount of data it can handle will increase dramatically.  Promise Technology currently is the only manufacturer with Thunderbolt storage on the market, though LaCie and Sonnet Technologies will be coming out soon with other alternatives. For around $1,000, you can have 4TB of storage that is as fast as you want to work.  Or for $2,000, you can have up to 12TB of storage.
The takeaway from Thunderbolt is that if you're moving large files around your network (e.g. – graphics files, high resolution photos or video or presentations with lots of media files), and you're doing it with Thunderbolt, you 'll save lots of time.
The current Mac Mini server comes preloaded with Lion and Lion Server.  Both Lion and Lion Server are different from Snow Leopard (OS 10.6) under the hood, so if you're currently running Snow Leopard server and you have software vital to your organization, you'll want to check with the software manufacturer for Lion compatibility and download the appropriate updates.
Apple generally doesn't allow for a new computer to boot an earlier operating system than what the machine shipped with. You don't want to upgrade to Lion only to find out that your software isn't compatible with Lion. A great place to check is Roaring Apps, which is a publicly-generated list of Apple software and any issues it might be having with Lion.
The new Mac Mini server is an exciting step forward in performance and storage ability over prior versions and if you're looking to get a server or replace one, it might just fit the bill for you and your organization.
Please also see Scott's discussion of software and and storage solutions for the Mini Server: Part One, Part Two, Part Three, and Part Four.
Guest blogger Scott Caldarelli, an Apple Certified Consultant, writes frequently about technology and IT at scottcaldarelliconsulting.com.