Earlier this week we introduced and reviewed a few social-media dashboards to help tame your organization's streams of updates pouring in. Many platforms (like Hootsuite, TweetDeck, and SproutSocial) also offer the ability to schedule a series of tweets to go out over days, weeks, or months. This feature is obviously handy if your charity has a similar message or link that it wants to send on a regular basis (enter it once, schedule it for Tuesdays over the next month, done!).
But how does that timing feature work, and how could your nonprofit use it to your advantage?
Though the specifics of each dashboard will be a bit different, the concept is the same and a trend toward standardization means our walkthrough with HootSuite is applicable to your choice of platform.
First, write your message – no small feat on Twitter, where you have a 140-character limit. We have suggestions on how to be efficient with those characters. Don't forget that hashtags (#), which allow your tweets to be searched (along with the rest of the Twitterverse) with that keyword – but they also count against your 140 characters. That said, hashtags to not support spaces, so #Super Bowl allows only to search 'Super'. Pull words together (#SuperBowl – capitals do not matter) and save space – literally.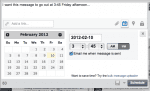 Then, click on the clock/calendar/timer icon to pull up the window to set the time of your tweet. Set it, and press the Schedule/Fire/Post… button of your platform. We know of no free services that allow bulk posting/scheduling, but most of the platforms have 'Pro' or 'Enterprise'-level accounts that do. As a small organization with one staff member, the best thing to do is copy-to-paste the tweet in various iterations.
I don't want an email to remind me each time a tweet goes out because Twitter automatically marks out tweets sent from my account. But if you want email confirmations, look for the button to get them.
And you're done. But how could such a feature prove useful to your outreach strategy? Let us suggest a couple of fairly easy ways to start testing and benefiting from timing your organization's posts.
First, with some attention to analytics, you can see at what times your posts get the most responses/clickthroughs. Does your audience tend to respond more to tweets in the early morning? Just after lunch? After dinner? Are tweets forwarded mostly on Tuesdays or Fridays? Such information can help you gage when is the best time to schedule the biggest news.
Also, scheduling helps build up momentum to a big event without requiring you to sit in front of your social-networking site all day. Fundraiser for St.Patrick's Day? Schedule a few initial tweets over the next couple of weeks to tell people to save the date. Schedule a tweet-a-day towards the end of February – when you should start giving details about the raffle you are holding or the guest speakers who will be there. In the 10-odd days before, schedule a couple of posts a day to get people focused on attending, participating, and contributing. Finally, don't forget to thank people after the big day, and give them some hard numbers/facts about how their participation has helped.
Scheduling is pretty easy, and it offers powerful information both to your nonprofit and to the people you are inspiring.