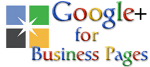 Yes, the release of Google+'s Business Pages is the biggest news in social media this week. And in business news. And in design news… The release of business pages within Google+ did not go without incident: Many were led to believe they could get their pages up, only to discover their accounts were not part of the list allowing early adoption – an inconvenience that mirrored the rollout of individual accounts as well.
But over the last day or two, the Business Pages have been presented to all Google+ users (one must have a Google+ Personal Page before one can build a Business Page), and the bandwagon has been overwhelmed ever since. What will Google+'s Business Pages bring to the social-media landscape?
Eric Melin at Spiral16.com probably best encapsulated the thoughts of many: "I know what you're thinking: 'Great, another social media page I have to manage for my company.' Hey, I'm with you — just when you think you've figured out how to make business gains from Twitter and Facebook, along comes Google+, another widespread social tool that's a big, wide-open question mark." But such trepidation did not stop him from reserving his page for his brand – and he encourages all his readers to do the same. Once you have your spot, then you might want to wait to see what develops. But you want to claim yours before someone else does.
Set up of the page, especially given your experience setting up your personal page (remember: a personal account is required first), is simple and quick. But simplicity and quickness might be limitations rather than features. So argues Rich Harris at ZDNet.com. His initial excitement waned in direct proportion to the completion of his page. "But while it only took me minutes to create the page, I realized the only reason it took only a few minutes was because there wasn't much to the page after the fact. Unfortunately it was just a personal profile with a company alias and logo slapped on top of it."
Rich also warns users that the similarities of the two accounts (both under your personal name and password) and perhaps similar looks could mean you post some personal photos to your business page – a mistake that could have terrible repercussions.
So, what's to like? Businesses and nonprofits can have Circles too, and we like circles. A nonprofit could create Circles like "Distributors" or "Volunteers" or "Gala Staff," which could make message-management incredibly easy. That feature is not unique to Business Pages, of course. But it could be a real boon to a staff wanting to send tailored messages to different constellations of its social-media galaxy. And individuals can be in different Circles, so management of lists is an easy exercise of dragging-and-dropping.
But Eric Melin presents some other ideas to make you consider seriously investing a bit more time in managing a Google+ Business Page along with all the other SM duties you have for your company. Perhaps most obviously, Google+ is part of the Googleverse. So any searches for information on your Business Page gets pulled into the SEO figures you likely are already following for your traditional website. Moreover, the '+' added to any search via Google takes you the Google+ Business Pages with that term (Try to search '+Pepsi' to see an example. To get your direct link, follow Google's directions.)
And, like all technologies, Google+ will grow and evolve. The DNA of plenty of tech/communications projects is already a part of Google, and over time much of that material will work its way into Google+. This last point is surely the most exciting one. If your nonprofit is wondering whether to get a G+ Business Page, the answer should be 'yes.' We are sympathetic to Eric's advice: Claim the page, even if you want to wait to see what develops. But develop Google+ will. Be prepared to follow it, learn about it, work with it. We hope this little primer helps.