It started with a handful of volunteers hoping to draw attention to some of the environmental efforts in and around Baltimore city. It grew in scope to include the business and nonprofit sectors, as well as scores of neighborhood-based organizations. And now Baltimore Green Works is poised to give us the biggest, funnest, most colorful, and most informative Green Week ever. It kicks of tomorrow with "Plant A Vertical Garden" at 2:pm at the Kennedy-Krieger Institute's Greenspring campus: "Join Baltimore Contained as we plant organic vegetables started from seed by the horticulture students at Kennedy Krieger High School. Using Woolly Pockets planters, you can grow vegetables on any supporting structure, including a chain link fence!" Read on to see the other green goodness coming our way.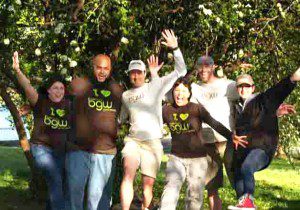 One of the reasons for the blossoming of the festival is the work of Christina Nutile, Program Manager at Baltimore Green Works since 2008 (and a volunteer the year before that). When she earned this position, it was part of a push to expand Green Week into a year's worth of activities in the city.
That was the year we decided to expand. That fall people were asking 'Why do we die each year, and revive only in January? Why don't we keep this going to connect communications across the city?' We also could provide a platform for eduction. Different folks were creating opportunities to make people aware of the subjects, but the opportunities were all separated. We thought we could bring them together. No other organization was doing that, so we wanted to keep it up through the year – keep the momentum going.
BGW hosts an EcoBall in early March, and runs a Sustainable Speaker Series year-round. See their lovely website for details of those other events.
As for Green Week 2011, look for a great deal of cross-pollination between neighborhood organizations and the business sector – an effort spearheaded by Christina to balance BGW's business and community outreach.
What is different in Baltimore from other GreenFests, is that we provide information and greening opportunities for a whole week. We have lectures and documentaries and workshops. We host food tours and art openings, too. We host City Day during the week as well, which is a partnership between Greenworks and the government, so the city can really highlight what they're doing to make living here more sustainable.
This year we really opened up the week to the community. We knew individuals and neighborhood groups wanted to get involved so we put out a Request For Proposals for community groups last year and the response was overwhelming. We have thirty two projects opening with Ecofest on the first Saturday [16 April ].

[youtube]http://www.youtube.com/watch?v=1R1qrZ4iBto[/youtube]
With the growing success and numbers and tie-ins to the week-long festival, a broader landscape can be cultivated. BGW has been heavily invested in social media over the last couple of years, though the board is still looking for ways to improve their use. "We've been on Facebook and Twitter for over two years, but we consider ourselves pretty new at it. With print costs rising, having these media is a huge help as so many of our members spread the word to their constituents and friends." So too have the volunteers and board discussed ways to improve the efficiency of that outreach, to ensure continued success and continuity.
Nevertheless, the key for Christina in the name of her organization is 'Baltimore.' Bigger can mean broader, and even better, but the scope remains Charm City.
Baltimore GreenWeek remains our flagship, our platform for all our outreach throughout the year. That's why we're shifted our focus toward the community even as we try to broaden the conversation. We need to stay connected to what is going on here. For example, we've used the Sustainable Speakers Series as an opportunity to bring in national speakers and to relate it back to what's going on in Baltimore. We'll bring in these speakers but we'll also bring into the conversation a local business or local leader, because our environment is different, our politics are different, our city life is different. So we want a conversation with an outside perspective, but absolutely connected to our city.
The excitement is building and the event opens tomorrow, but there's still time to get involved! "We love volunteers!" exclaimed Christina. "They can help us in so many ways through Green Week. But we're also looking for volunteers for outreach or marketing or web development. We have put together certain committees tied to different aspects of the Green Week. And hopefully they'll even join the board once they get more deeply involved."
The program for the week can be downloaded here. If you are interested in donating your time or resources, please contact BGW at: [email protected] or call 410.952.0334.
[wpdreams_rpp id=0]
SaveSave