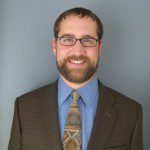 If you've ever watched Extreme Home Makeover, you've seen the kind of satisfaction one group of people can bring to another by providing them with a home that suits their needs. While the Greater Baltimore AHC (GBAHC) hasn't caught this kind of 'extreme' media attention, they've certainly caught the attention of the Baltimore area. GBAHC is part of AHC Inc., a private, nonprofit developer of affordable housing that's been providing quality homes for low- and moderate-income families since 1975. A subsidiary of AHC Inc., an affordable housing developer in Arlington, VA, Greater Baltimore AHC opened in 2004 to address the need for more affordable housing in the Baltimore region. Today GBAHC has six properties with more than 1,100 affordable apartments.
While you may not be seeing him on his own television show any time soon, Director of Greater Baltimore Affordable Housing Coalition, Andrew Vincent's, contribution to GBAHC brought him recent honor as a Baltimore "Innovator of the Year."
With a background in consulting, Andrew says he "lost interest in preparing reports that tended to sit on the shelf, so I went back to get a master's degree in real-estate development – a more concrete profession." After writing his graduate thesis on Baltimore real estate, he became acquainted with GBAHC, and was impressed by their plans for Baltimore. "I was fortunate enough to be hired by them."
Andrew remains modest about his 2010 award as an 'innovator." "The innovation they refer to really is about looking at sustainability in the context of affordable housing from a much broader scope than what most of us tend to think of as sustainability," Andrew says, "usually with ideas about being green and energy efficiency."
GBAHC, Inc. is committed to developing affordable housing communities–rental and ownership—that successfully revitalize communities through long term financial, physical and social stability. According to Andrew, "developing quality affordable housing is difficult, and all too often developers of affordable housing do 'whatever it takes' to get the housing built, but often at the expense of the property's long term viability. For instance, a property might be financed with an unsustainable debt structure that may only become obvious 15 or more years down the road."
It's important to note that GBAHC, Inc. – using its development philosophy of long term sustainability – has as of this writing developed five properties with more than 1,000 affordable apartments since 2002, and also has an active development pipeline to continue this growth.
Allison Pendell-Jones, Assistant Director of Resident Services GBAHC, is the perfect 'co-host' for Andrew's 'show.' With a background working with non-profits, Allison brings enthusiasm for GBAHC's outreach programs to its residents. Her role, as she sees it, is to strengthen what Andrew calls the 'three-pronged approach': developing physical, financial, and social stability of the community. Having worked with various organizations throughout her career, this pairing was Allison's first with housing development, affordable housing specifically.
"I was new to development in that sense. Prior to GBHC, development meant fundraising to me, so it
was a turn for me professionally. When I started, I began basically working with the development side of things like program management. The goal, though, always was to move me to resident services as we built up our Resident Services Programs here in Baltimore. AHC in VA has a long history with Resident Services programs-stretching over 15 years now. And as we developed our program here [in Baltimore], I was able to move over to take on leadership for Resident Programs and Services."
GBAHC is a sister organization with AHC but it is legally a separate agency with their own books, projects, properties, and board. According to Allison, "what the relationship allows us to do is establish a fee-for-services arrangement. So, for example, we do not have to maintain our own finance department, or our own HR department. Those types of functions are more efficient with a bigger office, so we provide a fee to AHC [in Virginia] for some of those services."
One of the latest success stories for the GBAHC has been the renovation of the Monte Verde Apartments (formerly Greenhill Apartments) in 2009. Financed through a mix of tax-exempt bonds, low-income housing tax credits, a construction financing from SunTrust, a real estate tax abatement from the City of Baltimore, and deferred developer fee and equity from AHC (with support from NeighborWorks), this was a rundown Section 8 complex featuring twin 13-story buildings that hadn't been updated since being built in the 1970s as a low-income housing neighborhood. Exposed cinderblock hallways, deteriorating kitchens and baths, and uniformed guards at the doorways created a dreary atmosphere for residents. Learning the owner wanted to sell the building, GBAHC stepped in to preserve and extend the Section 8 housing contract for low-income seniors and persons with disabilities. Not just wanting to save the building, their goal was to totally transform the 301-unit dilapidated community into a high-quality living environment for its fragile residents—85% seniors and 15% non-elderly disabled.
Andrew says the key to the project's success involved "…being flexible and committed to a vision… Every time you build affordable housing, you have to find some sort of subsidy in order to make it financially viable. So as the funding sources and the economy, were going through problems, the easiest thing to do with a project like this would be to say, 'let's just cut the construction budget back. We can't do all the work we want to do.' But we don't operate that way, and it wasn't something we were willing to consider."
This can-do attitude meant Andrew had to use a lot of creativity and hard work to identify alternate ways to finance. "We completely changed our whole financing structure and approach," Andrew says, "in order to adapt to the changing market. Our original financing plan just was no longer viable in the market as it changed. One of the bigger issues was timing constraints, as we had the property under contract only for a certain period. It was a race against the clock to rearrange the financing in the face of the realities of a changing market in order to preserve the vision of what we had set out to do." The result of this dedication and vision has been a complex worthy of its very own television show.
Due to the huge mismatch in Baltimore between the need for affordable housing and the supply GBAHC plans to continue working to preserve at-risk affordable housing resources already existing in the city. Andrew maintains this "…is going to continue to be a challenge – to meet the needs of the city. We need to stop the bleeding of the affordable housing that is being lost. But the greater challenge is to try to reverse that trend by creating new and affordable units. To me this is the greatest challenge and opportunity. We're confident we can operate in any kind of economy, whether contracting or expanding. It's just a matter of adapting to the realities of that marketplace."
As a result they're been stepping up marketing, media relations and social networking. While these efforts are new, for years GBAHC has also been an active participant in different partnerships, networks, and organizations that are like-minded or working in similar housing or development agencies, like the ABCD Network [Asset Building and Community Development], where Allison is co-chair of the Baltimore City committee. "We participate in their monthly meetings, take on leadership roles," says Allison, "in local groups like Central Baltimore Partnership Housing Taskforce, the kind of organizations that work together to network and bring changes to and advocate for the industry."
On more of a neighborhood level, GBAHC reaches out to various agencies and neighborhood organizations adjacent to their properties, in order to build networks and strengthen the relationship with other community members in the areas where they develop. They market via their website as well as a monthly online newsletter with updates to ongoing projects. They also have a Facebook page and a Twitter account to help promote their work.
Andrew wants readers and the public in general to recognize the great work Allison does in respect to the Resident Services Program. "We need to provide the housing before we can provide services to residents, but buildings are sticks and bricks, and a lot of people can run the operations of a building. But for us, the building is a living organism that includes the people who live there. The program that Allison has been building up to provide resident services programs catering to each property is an important component to building long-term, sustainable, affordable-housing development. So if anybody wants to donate to that cause, we always welcome donations that go directly to the services to our residents."
Such services include exercise opportunities, healthy living programs, literacy activities and more in addition to community-building activities like bi-weekly bingo and monthly crafting groups.
Allison adds a wrap-up: "AHC and GBAHC specifically do a really good job in investing in resident services, which is what sets us apart as a property developer, even as a nonprofit. Any fundraising or donations go towards that, not toward operating expenses"
With a commitment to serving a population with a great deal of need besides housing, GBAHC is able to use housing as a platform to offer many other services: dealing with financial literacy issues, other literacy issues, child care, teen mentorship. Perhaps their vision hasn't led them to become a household name, but with most residents of their properties at or below 30% of the area median income average, they're obviously providing for an under-served part of the community and making a lot of people happy in their homes.
Written by Cate Richard. Interview and additional research by Christopher Gardner.
Related articles